JOHOR BAHRU, Dec 11, 2017 – MaGICX was appointed by Malaysia Digital Economy Corporation (MDEC) as their Creative Centre Network Partner in the southern region.
The Chief Executive Officer of MDEC, Datuk Yasmin Mahmood announced the appointment during her official visit to MaGICX to officiate the Memorandum of Understanding (MoU) Exchange Ceremony between MaGICX and MDEC.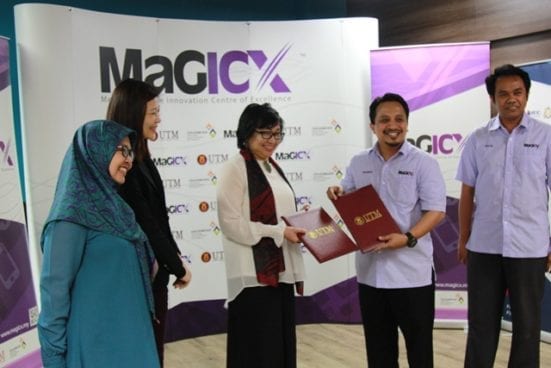 The purpose of the MoU was to leverage on programmes and facilities under the "Creative Content & Technologies Infrastructure Support" banner.
Its objectives are to promote events, facilities, services of the parties related to games/gamification and creative industry and to share annual plans of programmes and events and offer special rates for programmes, events and services to incubation partners and incubatees.
On the same day, Datuk Yasmin Mahmood was able to experience the Classroom of the Future, which was recently launched by the Minister of Higher Education, Datuk Seri Idris Jusoh, in partnership with Cisco Malaysia.
Also in attendance are the Dean of Faculty Computing, Prof. Dr. Abdul Samad Hj. Ismail and the Director of Centre for Information Communication Technology (CICT), Prof. Dr. Ali Selamat.
Media and Game Innovation Centre of Excellence (MaGICX) is a strategic collaboration between UTM and Iskandar Regional Development Authority (IRDA).
Established in 2013, MaGICX plays an important role and a key driver for the Digital Media Industry and Gamification Technology as well as the first centre in Malaysia that focuses on research, talent development and product commercialization.